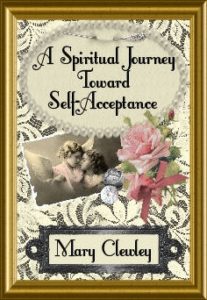 I have been busy working on my new book,
"A Spiritual Journey Toward Self-Acceptance",
which will be released Spring of 2016.
I started writing this book several years ago after the death of a dear friend. The book is dedicated to her and the subject matter is something we were both in the process of learning after some painful life experiences. Sometimes God gives us angels on earth to help us through really rocky places. Kimberly was on a journey to  her wings and when she finally found them, she left us. In her last breaths, she asked, "Did I make a difference?"
I was at the hospital because my mother in law had just been admitted for having a small stroke, when I received the call that Kimberly had gone home to be with Jesus. At 38, she died suddenly of Ovarian Cancer. I excused myself and ran as fast as I could to find the hospital chapel. I could not breathe. Sitting in the chapel, the sun came streaming through the stained glass windows as I quietly sobbed. There were so many things that I never had the chance to say. I had a small journal in my purse and I pulled it out and wrote some prayers and some promises to Kimberly.
The following is the dedication in my book:
For Kimberly
with love…
A woman of integrity, courage, and wisdom who left us too soon. You have left this world and each of us better for having known you. Thank you for telling me to speak up and lift my voice to the back of the room. Thank you for being my voice when I could not find my own. Thank you for telling me to ignore those who would try to diminish the Light of my Spirit. Thank you for showing me how to love and accept myself because you believed in me.
It's been a long journey Kimberly, but this book is for you. I made a promise that I would help others through our mutual experience of pain. Your voice lives on in the pages, sweet friend.
He who began a good work in you 
will perfect it until the day of Christ Jesus.
Philippians 1:6
 Yes, you did make a difference.