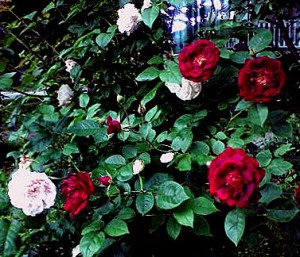 It is getting cold here in Michigan, so I brought in some of my potted roses to weather the winter with us inside. While trimming the leaves and dead foliage, I was reminded that many of them came from the garbage bin at the local greenhouse. When I saw them in a shopping cart piled on top of one another, I couldn't bear to see them thrown in the dumpster, as many still had signs of life. I knew that with some TLC they would grow, flourish and bring color into our lives through the cold winter months. I asked the florist if I could buy them for fifty cents each and brought them home. I spent the next day or so lovingly pruning them, changing their containers, adding new soil and then placed them under the fluorescent lights in my kitchen—where they stayed until they came back to life.
In the weeks proceeding, I noticed the healthier the roses became, the more thorns they produced. I began to reflect upon a season in my life when I was very wounded. I had developed thorns to protect myself through the storms of spiritual abuse that I had weathered; yet, there waited a beautiful flower ready to bloom. I began to ponder the many ways we protect ourselves, spiritually and emotionally. How many of us develop thorns to keep others at a distance? Do we develop thorns to keep predators away?
"What we have received is not the spirit of the world, but the Spirit who is from God, so that we may understand what God has freely given us." 1 Corinthians 2:12 (NIV)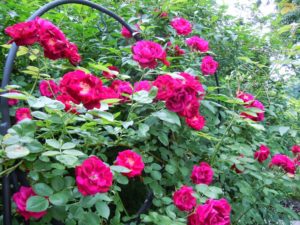 Searching for these answers was painful, bringing to the surface the reasons I had developed thorns and the brokenness I felt in my heart and soul. Little did I know that when I rescued these orphan plants that if I looked deep enough inside, there was a message in them for me of my own fragility, my own thorns, my own dead foliage and woundedness. And just as I saved these plants, there was a Savior waiting to rescue me, to heal all the ugliness and bring restoration—His beauty shining, blossoming, flourishing and adding color to my life.
Thank you Jesus for saving me. Thank you for using dying plants to show me that despite having been beaten down and damaged, you still had springtime waiting to bloom in my life. Thank you for being my Light while I came back to life. Thank you for using my compassion for living things to show me just how many thorns I was wearing. Thank you for lovingly pruning me and for breaking off every dead work and replacing a wilted spirit with roses.
"God chose things the world considers foolish in order to shame those who think they are wise. And he chose things that are powerless to shame those who are powerful."
1 Corinthians 1:27 (NLT)