I just read a book for my friends at Baker Publishing/Revell, titled
"The Smart Woman's Guide to Planning for Retirement"
by
Mary Hunt
Founder of Debt-Proof Living
If you are interested in learning more about handling your financial future, here is my review of Mary's book:
Baker Publishing 2013
213 pages
Chapters:
My Wake-up Call
You've Already Got What It Takes
A Lifetime Money Plan
Develop a Money Management System
Put Your Money Management System to Work
Build an Emergency Fund
Get Out of Debt
Maximize Your Retirement Accounts
Own Your Home Outright
Build Your Personal Investment Portfolio
How Much Will I Need to Retire
Can I Count on Social Security for My Retirement?
The Value of Time
Quick Guide to Planning by Decades
How to Choose a Financial Planner
Popular Ways to Commit Financial Suicide
Preparing for the Unexpected
Faith and Finances
What You Need That Money Can't Buy
Smart Women Are Doers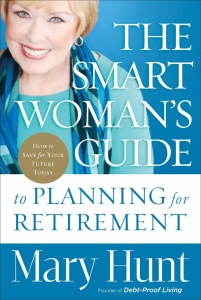 Mary's titles include:
Author, Mary Hunt is the founder of Debt-Proof Living and a syndicated financial columnist. In her new book, "The Smart Woman's Guide to Planning for Retirement", Mary shares with us, "92 percent of women of all ages in the United States don't feel they know enough to reach their retirement savings goals." She explains why she wrote this book: " Because I think women need a different kind of book, one without all the jargon, charts, and mind-numbing data, one that simply and honestly cuts through the complicated information that's out there and provides just the facts and motivation they need in a warm and conversational way—the way we'd chat over coffee about something that is very important to both of us."
Mary is very candid with her readers, using friendly conversation to impart her wisdom. She shares startling facts, such as the average amount a woman has saved by retirement is less than $30,000, and advises us that the best way to prepare for retirement is to begin with a solid lifetime money plan while we are young. She encourages the reader to "
stop making bad choices and start making good ones
."
Mary believes that our physical and financial health are in many ways, intertwined.
The core of the book is based on six strategies, which she teaches through in depth conversation:
Develop a money management system.
Build an emergency fund.
Get out of debt.
Maximize your retirement accounts.
Own your home outright.
Build your personal investment portfolio.
I love this book, and have outlined and marked the margins with the things I need to remember. I plan to read it several times to reassure myself that I can take control of my financial future, regardless of mistakes I have made in the past. One of the quotes I enjoyed was, "The amount of money you have has got nothing to do with what you earn. People earning a million dollars a year can have no money. People earning $35,000 a year can be quite well off. It's not what you earn, it's what you spend." Paul Clitheroe
Smart women plan. Smart women know how to manage the gifts they have received as resources. Smart women are doers!
This book is an important read for any women who want to learn more about managing money wisely and making a plan for the future. It is filled with great advice for women who are just beginning to look at their finances, regardless of age. The book includes step by step instructions to get on track and gain a sense of financial security. Mary uses stories of her own personal experience as launching points for discussion.
After reading her book, if you have further questions about your finances, Mary invites her readers to write to her at:
mary@debtproofliving.com.
5 Stars.