His Treasure
Gems of Love from Your King
By
Sheri Rose Shepherd
I want to thank my good friends at Tyndale House for asking me to review this book, as I had previously reviewed another book by Sheri, "If You Have a Craving, I Have a Cure" which I thoroughly enjoyed. Sheri writes with such a sweet and genuine spirit that her love for Christ is evident.
Her newest book, "
His Treasure: Gems of Love from Your King
" is just that—a treasure. I love the cover and the size of the book, which is small enough to carry in my purse. 178 pages of beautiful and heart-warming illustrations and letters from the Father, each anchoring our hearts around our indisputable value in the eyes of God. As I read this book I felt God speaking directly to me on each page. This is a book that should be read several times as a reminder that God calls us to himself and being knit closely to Him we will find fulfillment, purpose and joy.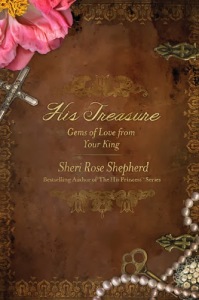 At the bottom of every other page is a "Treasure of Truth", nugget. Some examples are:
"How you feel about yourself will never change God's unconditional love for you."
"Our God does not waste pain…but He does wipe away every tear."
"You won't know God is all you need until God is all you wholeheartedly seek and want."
"You are so much more than what you have accomplished."
"Amazing change begins in us as we choose to live for our King."
I loved this book and plan to purchase several copies to give to women who need encouragement. It could only have been written through a prayerfully intimate relationship with God. The back cover sums up this little book very succinctly:
"Our Heavenly Father's deep desire is to be close to you. On the days when it feels like a struggle to connect your heart to His, turn to His Treasure—a beautiful collection of letters from your King, a pattern of precious gems reflecting His love.
Discover the riches you have in Christ, breathe in the Father's never-ending love for you, and rejoice in His treasures of truth as you experience a whole new encounter with the One who cherishes you most."
I want every woman to feel the kind of love from God that Sheri shares in her letters from the King, and I am positive that she does too. Whether you are a baby Christian or a woman who has known Christ her entire life, you can benefit by reading this gem. As I was reading– my spirit was awakened to the time I first became a Christian and the purity of the love that I felt from God and how I longed to spend each moment with him. In the busy world we live in today, I am sure you long for that too. Sheri's book will bring you closer and then you have to do your part. Suggestion: buy it and carry it around in your purse and meditate on one nugget at a time.
Five Stars.