The countdown to the online book study of my new workbook,
101 Prayers and Affirmations for Spiritual Wellness is on…..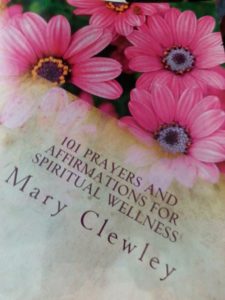 January 1st—tune into our Facebook community page: 101 Prayers and Affirmations Online Book Study to get updates and encouragement from others who are embarking on the journey.
You still have time to order a copy and receive it for the start of the New Year! I am shipping out my copies from the publisher with FREE shipping! $14.95
If you would like a copy, just message me or comment below and I will get back to you for your mailing address! Within a matter of a week, we have had over 1000 people join our community page. Prayer requests are coming into my message box each day. I could sure use a few encouragers to stop by…and I know that bloggers are very good at that!
The workbook is available on Amazon and will also be available in February at Barnes and Noble.
I will post a story about how God works on our hearts–in a day or so…but to make a long story short–I was feeling very overwhelmed by the response I have received with over 1000 likes and messages pouring in for prayer requests, etc. and I sat over breakfast this morning and told my husband that I was thinking of disconnecting from social networking completely in 2014…and I came home and a message came in from overseas from a man in the military who had found my book and online community and it was really significant to him. I sat there and cried. God always does that, doesn't He??? (pierces our hearts)…We cannot ignore the cries of His people…no matter where we are when we hear them or how those cries may leave us feeling overwhelmed. There is great need around us, everywhere.