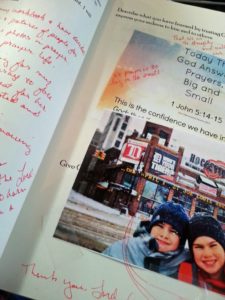 Day 14
Congratulations, you have made it through two weeks…praying and journaling for 14 days! Give yourself a pat on the back! I don't know about you, but I find myself looking forward to the assignments each day, as I know they are going to stretch me and by completing each page, I am digging into God's word through the suggested scripture memorization. I find myself holding onto these nuggets of truth throughout the day. I know that this is a God thing, but…. I also find each assignment appropriate to what is happening in my world each day.
In this assignment, we pray to ask God to make us confident enough and vulnerable enough to express our sadness to him and others, through tears. Many of us put up a strong front and never show our emotions in this way, but tears are healthy…I always say that they are a form of prayer. When we are able to release our emotions through tears, God hears our prayers and is already in the process of our healing.
Write a statement as an affirmation today, about allowing yourself to express your emotions through tears.
Scripture Memorization:
1 John 5:14-15
This is the confidence we have in approaching God: that if we ask anything according to his will, he hears us. And if we know that he hears us—whatever we ask—we know that we have what we asked of him.
Give Thanks Today That God Answers Prayers, Big and Small.
God is the Almighty and He will take down any Goliath we are facing.
My Reflections:
While I was preparing the assignment this morning, I received a prayer request that could affect the course of the lives of my nephews. I began to pray and cry out to God to circle them in prayer and His assurance. At that moment, I decided to utilize this journal to it's fullest. I printed out a photo and the scripture for today's assignment and taped them onto the pages. I needed to see the faces of my nephews to fully comprehend what it was that I was asking God for, in prayer.
Begin to personalize your workbook today. Write in it, draw pictures, take photos, write additional scripture that comes to mind while you are praying, use stickers…do whatever it is you feel compelled to do to make this your own private and wonderful prayer space—a holy space and prayer memory album.
We get the most out of our prayers when we personalize them because we have emotion attached to them. There is no right or wrong. This journey is between you and God. He knows what is going on in your life. Express it honestly on the pages of this workbook and see how He moves.
God answers prayers, big and small.
This is the confidence we have in approaching God: that if we ask anything according to his will, he hears us.
Don't have the workbook? It's not too late to start.
You can purchase it here:

hopefilledliving

Amazon

Barnes and Noble