"Let me teach you, because I am humble and gentle at heart, and you will find rest for your souls." Matthew 11:29
Balancing your body begins with balancing your soul, your relationship with God. It is also about connectedness—a place where you and God are One. When our relationship with our Creator is out of balance we tend to "stuff" ourselves with things that we hope will fill the void. What do you "stuff"?
Whatever we "stuff" will eventually come to the surface…be it in sickness in our bodies, weight gain, emotional distress, financial problems, etc. The bible says, "God will both bring to light the secret things that are (now hidden) in darkness and disclose and expose the (secret) aims of hearts." 1 Corinthians 4:5
Put your effort into pursuing God's peace. Practice stillness. When you keep company with God throughout the day– He will give you guidance and steer you in the right direction. Get into God's word. Memorize it. Think on it. Meditate on it, as it is Truth and Life.
"Whatever is true, whatever is honorable, whatever is right, whatever is pure, whatever is lovely, whatever is of good report, if there is any excellence and if anything worthy of praise, dwell on these things." Philippians 4:8
In the book of Romans, Paul says, "And do not be conformed to this world, but be transformed by the renewing of your mind, that you may prove what is that good and acceptable and perfect will of God." Romans 12:2
If we look at this passage from the perspective of our self-image, it tells us that one of the keys to recognizing our own unique beauty is not in the transformation of our body, but in the "renewal" or transformation of our mind; our thought life. What thoughts do you think about yourself? What messages about your body do you play over and over again like a broken record?
Thankfully, God is willing to collaborate with us in this transformation through prayer. The Holy Spirit is the Spirit of truth and transformation is a process, which requires daily renewal by bringing "every thought into captivity to the obedience of Christ," (2 Corinthians 10:5).
As women, we must make a daily decision to choose to see ourselves in the light of Christ –setting aside what the world says about how we look or should look, instead…focusing on those things that will keep our body and mind strong, choosing first and foremost to concentrate on the work of our heart and the light of Christ that shines through us as we grow deeper in knowledge and understanding of the One who calls us beautiful. Transformation of the mind is an integral part of this process as what we think and believe about God, others and ourselves will determine how we act.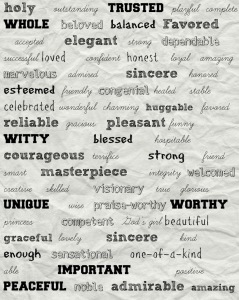 When you are plagued with insecurity and ugly thoughts about yourself, remember that there is a God who calls you beautiful and his love will shine through you, creating an inward beauty which manifests itself outwardly, drawing people to yourself… if only you will let him, by seeking him daily and casting all your cares and burdens upon him.

Inner beauty gives us a healthy glow

, unlike anything we can buy in a bottle.
"Dear Lord, I release my thought life to you today. Please transform me into your likeness, allowing me to see in myself the beauty, which you see in me. Help me to recognize that the more I work on my Spirit, the closer I grow in relationship with you, the more I will shine outwardly. Lord, help me to meditate today on things of the heart rather than the externally focused ideals that the world hastens me to. Thank you, Lord for calling me beautiful. Thank you for calling me by name. Thank you that I can and will see myself through your eyes today and because of this will be more open to giving and receiving love."
What are some of the ugly WORDS (ugly thoughts) you have used in the past to describe yourself? Write them here:
The tongue has the power of life and death, and those who love it will eat its fruit."
Proverbs 18:21 Good words produce spiritual strength. Healing words purify the mind and spirit of negative thoughts. Healing words affect our mood and our outlook. Our words can be used to inspire, encourage and to bring joy to a broken spirit. Words have power.
Take some time today to think of some healing words and phrases…write some awesome, healing, powerful words, here:
Give God thanks that He is healing you from the inside out and helping you to begin to see yourself as He sees you…beautiful.